Building a tiny house may seem like an overwhelming task, but with the right knowledge and preparation, it can be a rewarding and fulfilling experience. You might be thinking, 'Why should I build a tiny house when I can just buy a conventional one?'
Well, let me tell you, there are numerous benefits to building your own tiny house. Not only does it provide you with the opportunity to customize every inch of your living space, but it also allows you to live a more sustainable and minimalist lifestyle.
In this article, I will guide you through the essential steps of building your tiny house, from determining your goals and needs to enjoying your cozy and sustainable home. So, let's dive in and explore what you need to know to embark on this exciting journey of building your own tiny house.
Key Takeaways
Determine goals, needs, and budget before starting construction
Research local building codes and regulations
Choose durable and sustainable materials and tools within budget
Customizing interior and finding clever storage solutions maximizes space
Determine Your Goals and Needs
Before you start building your tiny house, it's important to determine what your goals and needs are. Setting your budget is the first step in this process. Calculate how much you can afford to spend on your tiny house, taking into consideration not only the construction costs but also ongoing maintenance and utilities.
Once you have a budget in mind, you can start looking for the right location. Consider factors such as proximity to amenities, access to utilities, and zoning regulations. Research different areas and visit potential sites to get a sense of what would work best for you.
Once you have determined your goals, needs, budget, and location, you can move on to the next step of researching local building codes and regulations. These regulations will determine what you can and cannot do when it comes to building your tiny house, so it's important to familiarize yourself with them before you begin construction.
Research Local Building Codes and Regulations
First, make sure to research local codes and regulations to ensure compliance with the law, as a staggering 92% of tiny house owners face legal challenges due to zoning restrictions and building codes.
Start by researching permits required in your area. Contact your local building department to inquire about the specific permits needed for constructing a tiny house. Additionally, you may need to find contractors who are experienced in building tiny houses and are familiar with local regulations. They can guide you through the process and ensure that your project meets all necessary codes.
Once you have gathered all the required information, you can move on to creating a detailed floor plan and design for your tiny house. This step will help you visualize the layout and ensure that your design meets your goals and needs.
Create a Detailed Floor Plan and Design
Next, start envisioning your dream tiny home by crafting a detailed floor plan and design that captures your unique style and preferences.
When creating your floor plan, there are several design considerations to keep in mind. Firstly, think about the layout and functionality of each space. How will you optimize your limited square footage to maximize efficiency? Consider incorporating multi-purpose furniture and storage solutions to make the most of every inch.
Secondly, pay attention to the flow and circulation within your tiny home. Ensure that there's enough room to move around comfortably and that the placement of doors and windows allows for natural light and ventilation.
Additionally, think about the aesthetics of your design. Choose a color scheme and materials that reflect your personal taste and create a warm and inviting atmosphere.
Finally, make sure to include any specific features or amenities that are important to you. With a well-thought-out floor plan and design, your tiny house will be both functional and beautiful.
As you start thinking about the next step, which is choosing the right materials and tools, keep in mind the design you've created and how it'll inform your choices.
Choose the Right Materials and Tools
To ensure the success of your project, it's essential to consider which materials and tools will best bring your design to life. How will you choose the perfect combination that reflects your unique style and fits within your budget?
When it comes to choosing the right materials and tools for building your tiny house, there are a few key factors to keep in mind. First, consider the durability and sustainability of the materials. Opt for high-quality, eco-friendly options that will stand the test of time.
Additionally, think about the functionality and versatility of the tools you'll need. Invest in tools that are specifically designed for small-scale construction and that will make your building process easier and more efficient.
By carefully selecting the right materials and tools, you'll set yourself up for a successful tiny house build. Now, let's move on to the next step: starting with a solid foundation.
Start with a Solid Foundation
Begin your tiny house project by establishing a strong and stable foundation that will serve as the solid base for your dream home.
Choosing the right location is crucial for the success of your tiny house. Look for a spot that is level and well-drained, as this will prevent any potential issues with water damage or shifting. Additionally, consider the local building codes and regulations to ensure that you're in compliance with the law.
Finding the right builder is another important step in creating a solid foundation for your tiny house. Look for experienced professionals who've got a track record of building high-quality structures. They'll be able to guide you through the process and help you make informed decisions.
Once you've got your foundation in place, you can move on to the next step of building your tiny house: the frame. This is where the real construction begins, and you'll start to see your dream home take shape.
Build and Assemble the Frame
Once you've established a solid foundation, it's crucial to entrust the construction of your tiny house frame to experienced professionals who can expertly bring your dream home to life. Building the frame requires precise building techniques to ensure structural integrity and maximize space utilization. It involves assembling the walls, roof, and floor using high-quality materials and techniques that meet safety standards.
To give you an idea of the various components involved in the frame construction, refer to the table below:
| Component | Material | Cost Considerations |
| --- | --- | --- |
| Walls | Wood or Steel | Consider durability and cost-effectiveness. |
| Roof | Trusses or Rafters | Choose based on the desired roof design and load-bearing requirements. |
| Floor | Treated Plywood | Opt for moisture-resistant materials for longevity. |
Building the frame is a critical step in the construction process, as it sets the stage for the installation of plumbing and electrical systems. These systems will ensure your tiny house is functional and livable.
Install Plumbing and Electrical Systems
After successfully building and assembling the frame of your tiny house, it's time to move on to the next crucial step: installing the plumbing and electrical systems. This is where the functionality and convenience of your tiny house really come to life.
For the plumbing installation, you'll need to carefully plan the layout of your pipes and fixtures, ensuring efficient water flow and waste management. This includes connecting the main water supply, installing a water heater, and setting up the bathroom and kitchen fixtures.
When it comes to the electrical system installation, safety is paramount. You'll need to install a breaker panel, run wiring throughout the house, and connect outlets, switches, and lights. It's important to follow electrical codes and guidelines to ensure everything is properly grounded and wired.
In the next section, we will explore how to insulate and weatherproof your tiny house, which is crucial for maintaining a comfortable and energy-efficient living space.
Insulate and Weatherproof Your Tiny House
To create a comfortable and energy-efficient living space, it's crucial to insulate and weatherproof your tiny house. Proper insulation techniques and energy-efficient options will help you maintain a consistent temperature inside your home while minimizing energy consumption.
When it comes to insulation, you have several choices. One option is to use spray foam insulation, which provides an airtight seal and excellent thermal performance. Another option is to use rigid foam insulation, which is lightweight and easy to install. Additionally, you can consider using natural insulation materials like sheep's wool or recycled denim.
Once you have chosen your insulation method, it's important to weatherproof your tiny house. This involves sealing gaps and cracks, installing weatherstripping on doors and windows, and adding insulation to the roof and walls.
By insulating and weatherproofing your tiny house, you'll create a cozy and energy-efficient space that is comfortable year-round.
Now, let's move on to customizing your interior and exploring storage solutions.
Customize Your Interior and Storage Solutions
Make sure to personalize the interior of your tiny house and find clever storage solutions that maximize the limited space available. When it comes to interior design trends for tiny houses, simplicity and functionality are key. Opt for light colors and minimalistic furniture to create a sense of openness and airiness. Consider multi-purpose furniture that serves dual functions, such as a sofa that can also be used as a bed or storage compartments built into stairs.
Utilizing vertical space is crucial in maximizing space, so install shelves and cabinets that go all the way up to the ceiling. Additionally, make use of hidden storage solutions, like under-bed drawers or storage ottomans. By customizing your interior and implementing smart storage solutions, you can create a comfortable and efficient living space in your tiny house.
In the next section, we'll explore how to enjoy your cozy and sustainable tiny home by incorporating eco-friendly features.
Enjoy Your Cozy and Sustainable Tiny Home
Experience the joy of living in a cozy and sustainable tiny home that is uniquely designed to fit your lifestyle. Sustainable living is not only good for the environment, but it also offers numerous benefits when it comes to downsizing. By reducing your carbon footprint and embracing a minimalist lifestyle, you can significantly decrease your energy consumption and waste production.
One of the key advantages of a tiny home is its energy efficiency. With a smaller space to heat or cool, you can save on energy bills and reduce your reliance on fossil fuels. Additionally, sustainable materials can be used in the construction of your tiny home, further minimizing its impact on the environment.
To help you visualize the benefits of sustainable living and downsizing, here is a table showcasing some of the advantages:
| Sustainable Living Benefits | Downsizing Benefits | Environmental Benefits |
| --- | --- | --- |
| Lower energy consumption | Reduced maintenance | Reduced waste |
| Minimalist lifestyle | Financial savings | Conservation of resources |
| Eco-friendly materials | Increased mobility | Decreased carbon footprint |
Embrace the simplicity and sustainability of tiny house living, and enjoy the benefits it brings to your life and the planet.
Frequently Asked Questions
How much does it typically cost to build a tiny house?
Building a tiny house typically costs around $20,000 to $100,000, depending on factors like size, materials, and location. However, it's important to consider the pros and cons of this popular trend in tiny house design.
Can I legally park my tiny house anywhere?
Zoning restrictions dictate where I can park my tiny house legally. I must also consider building codes to meet legal requirements. It's important to research and comply with local regulations to avoid any legal issues.
Do I need a special license or certification to build a tiny house?
Specialized training or certification is not legally required to build a tiny house. However, it is important to research local building codes and regulations to ensure compliance with legal requirements throughout the construction process.
How long does it usually take to build a tiny house?
The timeline for building a tiny house can vary depending on several factors. These factors include the complexity of the design, the availability of materials, and the skill level of the builder.
Are there any financing options available for building a tiny house?
There are financing options available for building a tiny house. Pros include the ability to secure a loan for construction costs. Cons include potentially higher interest rates and stricter lending requirements compared to traditional home loans.
Conclusion
In conclusion, building a tiny house requires careful planning, research, and attention to detail. It is a labor-intensive process that can be both challenging and rewarding. However, with the right materials, tools, and knowledge of local building codes, you can create a cozy and sustainable home that reflects your unique needs and style.
Just like building a tiny house, life is a journey that requires determination and perseverance. It may seem daunting at times, but with patience and hard work, you can achieve your dreams and create a space that truly feels like home.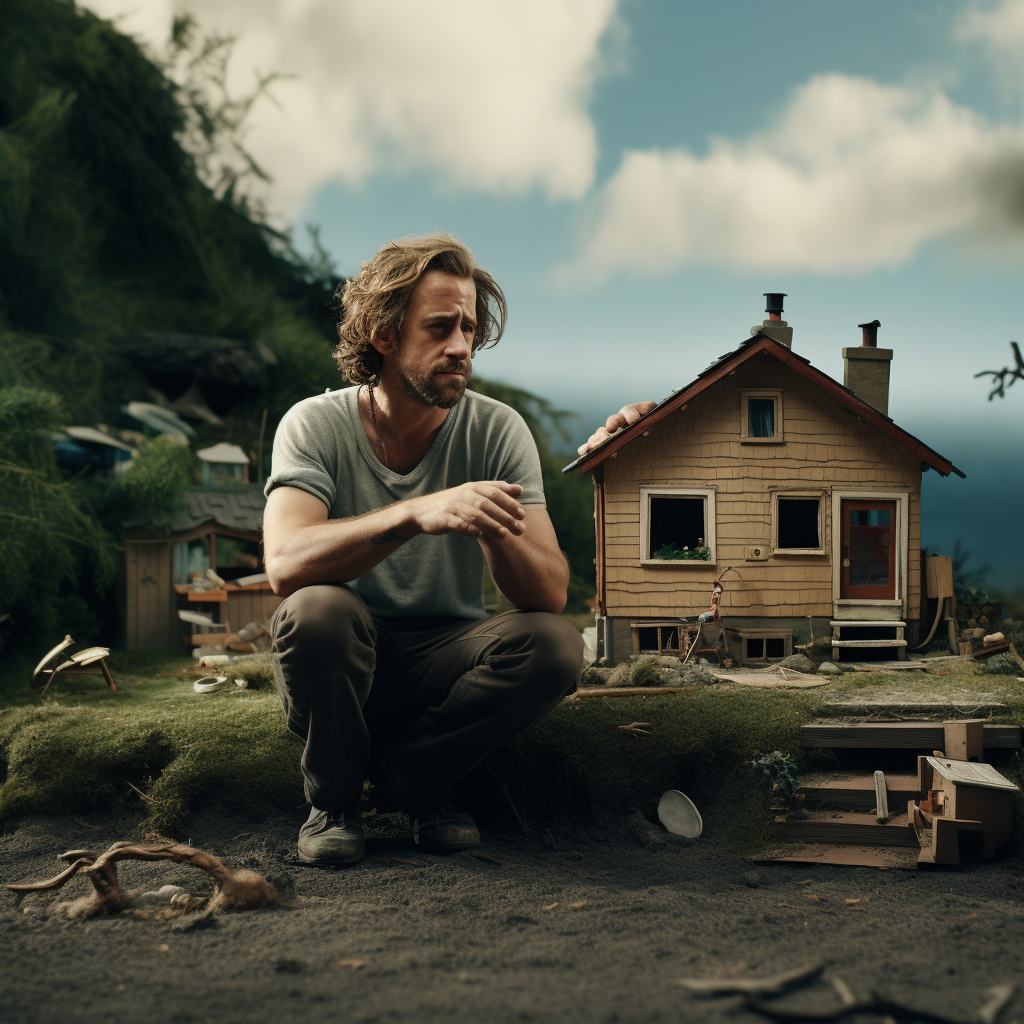 I'm Theodore, and I love tiny houses. In fact, I'm the author of Tiny House 43, a book about tiny houses that are also tree houses. I think they're magical places where imaginations can run wild and adventures are just waiting to happen.
While tree houses are often associated with childhood, they can be the perfect adult retreat. They offer a cozy space to relax and unwind, surrounded by nature. And since they're typically built on stilts or raised platforms, they offer stunning views that traditional homes simply can't match.
If you're looking for a unique and romantic getaway, a tree house tiny house might just be the perfect option.