How Can You Use Solar Energy in Your Tiny House
So you've got a tiny house, huh? Well, let me tell you, the sun is your new best friend.
With solar energy, you can power your cozy little abode and live off the grid. It's not just about saving the planet, although that's a nice bonus. It's also about saving your wallet from those pesky utility bills.
In this article, I'll show you how to harness the power of the sun and make your tiny house the ultimate energy-efficient haven. Let's get started, shall we?
Key Takeaways
Solar energy provides a sustainable source of power for tiny houses.
Installing solar panels allows for off-grid living and reduces carbon footprint.
Maximizing energy efficiency in a tiny house with solar power can lead to significant energy savings.
Lithium-ion batteries offer reliable and efficient storage solutions for solar-generated energy in tiny houses.
Benefits of Solar Energy for Tiny Houses
I can't deny the numerous benefits of using solar energy in my tiny house. Not only does it provide a sustainable source of power, but it also allows me to live off the grid and reduce my carbon footprint.
Solar energy for off-grid living is a game-changer, especially for those who desire serving others and the planet. By harnessing the power of the sun, I'm able to generate electricity without relying on fossil fuels, which helps to lower greenhouse gas emissions and combat climate change.
Additionally, solar power is a renewable resource, meaning it will never run out, ensuring a continuous and reliable source of energy for my tiny house.
The installation of solar panels may require an initial investment, but the long-term savings, both financially and environmentally, make it a worthwhile choice.
Installing Solar Panels on Your Tiny House
To properly install solar panels on your tiny house, you'll need to carefully plan and consider your energy needs. Here are some key steps to help you in the process:
Determine the best location for solar panel placement. Look for an area on your roof or property that receives maximum sunlight throughout the day.
Assess your energy requirements. Calculate the amount of electricity you need to power your appliances and lighting to determine the size and number of solar panels needed.
Choose the right type of solar panels. Monocrystalline or polycrystalline panels are commonly used for residential applications due to their efficiency and durability.
Integrating solar power into your tiny house provides numerous benefits, including reduced energy costs and environmental impact. By carefully planning your installation and considering your energy needs, you can maximize the efficiency of your solar panels and enjoy the benefits of renewable energy.
Maximizing Energy Efficiency in Your Tiny House With Solar Power
By implementing energy-efficient practices and utilizing solar power in my tiny house, I can significantly reduce my carbon footprint and lower my energy consumption.
One way to maximize energy efficiency is by using energy-saving appliances. These appliances are designed to consume less electricity while still providing the same level of functionality. For example, energy-efficient refrigerators use advanced insulation and compressors to minimize energy usage.
Another method is to incorporate passive solar design into the house. This involves utilizing the sun's energy to naturally heat and cool the space. By positioning windows strategically and using thermal mass materials, the house can absorb and retain heat during the day and release it at night. This reduces the need for artificial heating and cooling, resulting in significant energy savings.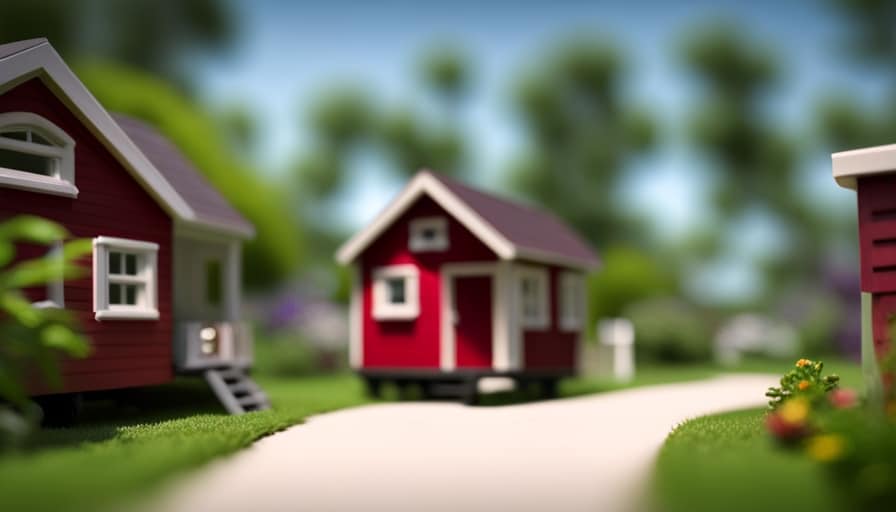 Storage Solutions for Solar Energy in Tiny Houses
One popular storage solution for solar energy in my tiny house is the use of lithium-ion batteries. These batteries offer several advantages for off-grid living and provide a reliable and efficient way to store the energy generated by solar panels.
Here are some key reasons why lithium-ion batteries are a great choice:
High energy density: Lithium-ion batteries have a higher energy density compared to other battery options, allowing you to store more power in a smaller space.

Long lifespan: These batteries have a longer lifespan than traditional lead-acid batteries, reducing the need for frequent replacements and saving you money in the long run.

Fast charging and discharging: Lithium-ion batteries can charge and discharge quickly, making them ideal for meeting sudden power demands or storing excess energy for later use.
Cost Considerations and Financial Incentives for Solar Energy in Tiny Houses
An important consideration when installing solar energy in my tiny house is the cost and potential financial incentives available.
While the initial cost of installing solar panels may seem high, it's essential to consider the long-term cost savings. By using solar energy, I can reduce or even eliminate my monthly electricity bills, resulting in significant savings over time.
Additionally, there are various government rebates and incentives available to help offset the cost of solar installation. These rebates can significantly reduce the upfront expenses and make solar energy more affordable for tiny house owners.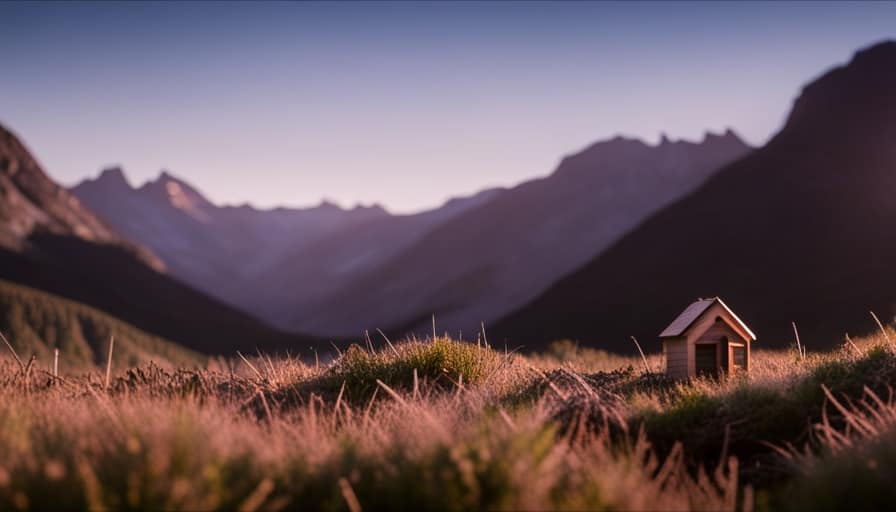 It's crucial to research and take advantage of these financial incentives to maximize the cost savings and make solar energy a sustainable and economical choice for my tiny house.
Frequently Asked Questions
What Are the Different Types of Solar Panels Available for Tiny Houses?
There are various types of solar panels available for tiny houses, each with its own pros and cons. It's important to consider factors like efficiency, cost, and space requirements when choosing the right type for your tiny house.
Are There Any Limitations or Restrictions When It Comes to Installing Solar Panels on a Tiny House?
There are some limitations and restrictions to consider when installing solar panels on a tiny house. Factors like roof space, weight capacity, and local regulations may affect the feasibility and design of the solar system.
How Long Do Solar Panels Typically Last, and What Is the Maintenance Required?
Solar panels typically last around 25 to 30 years with proper maintenance. Regular cleaning and inspection are needed to ensure optimal performance. Following manufacturer guidelines and hiring professionals can help extend the lifespan of your solar panels.
Can Solar Energy Be Used to Power All Appliances and Devices in a Tiny House?
Yes, solar energy can power all appliances and devices in a tiny house. It's efficient and cost-effective. Installing solar panels allows me to be self-sufficient and reduce my carbon footprint while enjoying modern comforts.
Are There Any Specific Regulations or Permits Required for Installing Solar Panels on a Tiny House?
Regulations and permits may be required for installing solar panels on a tiny house. It is important to research local building codes and zoning regulations to ensure compliance and obtain the necessary permits before installation.
Conclusion
In conclusion, utilizing solar energy in your tiny house not only provides numerous benefits such as lower energy costs and reduced carbon footprint, but it also gives you the freedom and independence to live off-grid.
By installing solar panels and maximizing energy efficiency, you can harness the power of the sun to meet your energy needs.
Remember, as the saying goes, 'Don't put off until tomorrow what you can do today.'
Start embracing solar energy and unlock the potential of a sustainable future for your tiny house.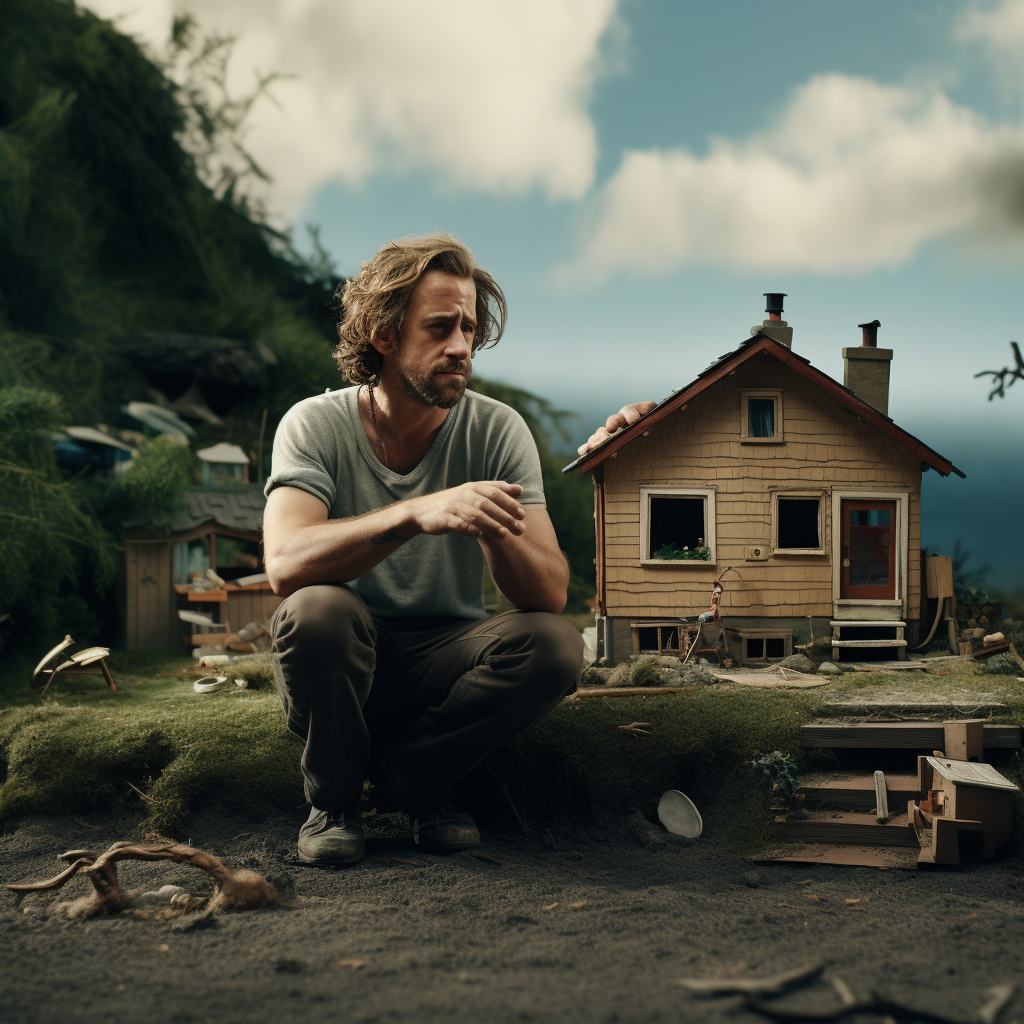 I'm Theodore, and I love tiny houses. In fact, I'm the author of Tiny House 43, a book about tiny houses that are also tree houses. I think they're magical places where imaginations can run wild and adventures are just waiting to happen.
While tree houses are often associated with childhood, they can be the perfect adult retreat. They offer a cozy space to relax and unwind, surrounded by nature. And since they're typically built on stilts or raised platforms, they offer stunning views that traditional homes simply can't match.
If you're looking for a unique and romantic getaway, a tree house tiny house might just be the perfect option.
As an affiliate, we may earn a commission from qualifying purchases. We get commissions for purchases made through links on this website from Amazon and other third parties.