I remember the first time I stepped into a tiny house. The moment I crossed the threshold, it felt as if I had entered a different world. The space was cozy yet functional, with every nook and cranny cleverly utilized. It was a visual feast, with hidden storage compartments and multi-purpose furniture that seamlessly transformed the small area into a home.
That experience ignited my curiosity about living in a tiny house and the possibilities it offered.
Living in a tiny house is not just about downsizing your physical space, but also embracing a simpler and more sustainable lifestyle. It requires careful planning, creativity, and a willingness to let go of unnecessary belongings. But the rewards are immense – reduced expenses, a smaller carbon footprint, and the freedom to live a more intentional life.
In this article, I will guide you through the process of living in a tiny house. From understanding the concept to finding or building the perfect abode, maximizing your space, and adopting sustainable practices, we will explore every aspect of tiny house living.
Get ready to embark on a journey of simplicity, functionality, and beauty as we delve into the world of tiny houses.
Key Takeaways
Understand the Concept of Tiny House Living
Imagine waking up in a cozy, compact space where every square inch is thoughtfully designed to maximize functionality and simplicity. That's the beauty of tiny house living.
Tiny houses have gained popularity over the years due to their unique design and the freedom they offer from the burden of excessive belongings. With the rising cost of living and the desire for a more sustainable lifestyle, many people are turning to tiny houses as a viable solution.
Tiny house design is all about maximizing space. From clever storage solutions to multifunctional furniture, every aspect of the design is carefully considered. Downsizing is a big part of transitioning to a tiny house. It's important to evaluate your belongings and only keep what you truly need and love. This process can be challenging, but it's liberating to let go of the unnecessary and focus on what truly matters.
Determining your space and budget requirements is the next step in your tiny house journey. It's important to assess how much space you need and what your budget allows for. This will help guide your decisions when it comes to choosing the right tiny house design and layout. By understanding the concept of tiny house living and downsizing effectively, you can create a space that is not only functional but also reflects your personal style and values.
Determine Your Space and Budget Requirements
Consider assessing your specific spatial and financial needs when determining the requirements for your compact dwelling. Space optimization is key when living in a tiny house, so it's important to carefully consider how much space you truly need and how to make the most of every square inch. Here are some ideas to help you determine your space and budget requirements:
Prioritize your needs: Make a list of the essential features and functionalities you require in your tiny house. This will help you allocate space accordingly.
Multi-purpose furniture: Opt for furniture that serves multiple purposes, such as a sofa that can also be used as a bed or storage units that double as seating.
Creative storage solutions: Think vertically and utilize every nook and cranny for storage. Consider built-in shelves, under-bed storage, or wall-mounted organizers.
Minimize unnecessary belongings: Declutter and only keep the items that truly bring you joy or serve a practical purpose. This will help save space and reduce the need for storage.
Set a realistic budget: Determine how much you can afford to spend on your tiny house project, including the cost of construction, materials, permits, and any additional expenses.
By carefully assessing your space and budget requirements, you can ensure that your tiny house will meet your needs and be financially feasible.
Now, let's explore how to find or build the perfect tiny house.
Find or Build the Perfect Tiny House
Once you've determined your space and budget requirements, it's time to embark on the quest for the ideal compact abode that fits like a glove. Finding affordable options for a tiny house can be a challenge, but with a little creativity and research, it's possible to find the perfect match. One option is to purchase a pre-built tiny house from a reputable company. These houses are often designed with space-saving features and can be customized to fit your needs. Another option is to build your own tiny house using a DIY construction approach. This allows you to have complete control over the design and layout of your home while also saving money. DIY tiny house construction requires some basic carpentry skills and a lot of patience, but the end result can be incredibly rewarding. To give you an idea of the possibilities, take a look at the table below:
| Feature | Description |
| --- | --- |
| Lofted Sleeping Area | Utilize vertical space by incorporating a loft for your bed. |
| Hidden Storage | Maximize storage space by using hidden compartments and built-in shelving. |
| Multi-functional Furniture | Invest in furniture that can serve multiple purposes, such as a sofa that can be converted into a bed. |
| Foldable Appliances | Opt for compact, foldable appliances like a stove or table that can be easily stored when not in use. |
| Wall-mounted Storage | Install wall-mounted shelves and hooks to make use of vertical wall space. |
With your perfect tiny house in tow, it's time to move on to the next step: maximizing your space with clever storage solutions.
Maximize Your Space with Clever Storage Solutions
Get ready to make the most of your compact abode by discovering clever storage solutions that will maximize your space. In a tiny house, every square inch counts, so it's essential to utilize every nook and cranny.
Luckily, there are plenty of clever storage ideas and space-saving solutions that can help you achieve an organized and clutter-free living environment.
One ingenious storage solution is to utilize vertical space. Install shelves and cabinets that go all the way up to the ceiling, making use of the often underutilized wall space. This will not only provide ample storage for your belongings but also create a visually appealing display.
Another clever idea is to incorporate multi-functional furniture. Look for pieces that can serve more than one purpose, such as a coffee table with hidden storage or a sofa that can transform into a bed.
Additionally, embrace the power of organization. Invest in storage containers, bins, and baskets that can help you keep your belongings neat and tidy. Utilize under-bed storage, hang hooks on the back of doors, and use magnetic strips to store knives and utensils on the inside of cabinet doors.
By implementing these clever storage solutions, you can create a functional and efficient living space in your tiny house. So, embrace minimalism and declutter your belongings, as we delve into the next section.
Embrace Minimalism and Declutter Your Belongings
Embrace the simple life and let go of excess baggage by decluttering your possessions, allowing your space to breathe and your mind to find peace.
When living in a tiny house, it's essential to adopt a minimalist decor and downsize effectively. By following a few downsizing tips, you can create a serene and clutter-free environment.
Start by going through each room and taking inventory of your belongings. Ask yourself if each item serves a purpose or brings you joy. If not, it may be time to let it go. Consider donating or selling items that you no longer need.
To maximize space, invest in multi-functional furniture pieces. Opt for a sofa that doubles as a storage unit or a bed that can be folded away during the day. Utilize vertical space by installing shelves or hanging organizers. This will help keep your belongings organized and make the most of every inch of your tiny house.
Keep in mind that minimalism isn't just about decluttering physical items, but also about simplifying your lifestyle. Focus on experiences rather than material possessions, and surround yourself with only the essentials. This will create a sense of calm and allow you to fully enjoy your minimalist living space.
Transitioning into the next section about creating a functional and comfortable living area, it's important to consider the layout and arrangement of furniture in your tiny house.
Create a Functional and Comfortable Living Area
Designing a cozy and practical living space is crucial for maximizing functionality and comfort in your compact home. In a tiny house, every square inch counts, so it's essential to create a functional space that meets your needs. Here are some tips to help you achieve a comfortable design:
Maximize storage: Utilize multifunctional furniture with built-in storage, such as ottomans or beds with drawers. Install shelves and hooks on walls to keep items off the floor and create a sense of openness.
Optimize layout: Carefully plan the arrangement of furniture to make the most of your limited space. Consider using modular or flexible furniture that can be easily rearranged to adapt to different activities.
Choose the right colors: Light, neutral colors can make a small space feel larger and more inviting. Use mirrors strategically to reflect light and create an illusion of depth.
By creating a functional and comfortable living area, you can make the most of your tiny house without sacrificing comfort or style. However, don't forget to make use of outdoor space for additional living area. Transitioning seamlessly from indoor to outdoor spaces can expand your living area and create a sense of openness.
Make Use of Outdoor Space for Additional Living Area
Step outside your compact abode and discover the endless possibilities of expanding your living area by utilizing the outdoor space.
Living in a tiny house doesn't mean you have to sacrifice the joys of outdoor activities. In fact, it opens up a whole new world of possibilities for enjoying nature right at your doorstep. Whether it's setting up a cozy seating area, creating a mini herb garden, or even having a small barbecue, there are plenty of ways to make the most of your outdoor space.
One way to maximize your outdoor living area is by creating a functional seating area. Invest in some comfortable outdoor furniture, such as a small table and chairs or a cozy outdoor sofa, and arrange them in a way that encourages relaxation and socializing. This will give you an additional space to entertain guests or simply enjoy a cup of coffee while soaking up the sunshine.
If you have a green thumb, take advantage of the gardening opportunities that come with living in a tiny house. Set up some raised beds or vertical gardens to grow your own fruits, vegetables, or herbs. Not only will this provide you with fresh and organic produce, but it will also add a touch of beauty to your outdoor space.
By incorporating these outdoor activities and gardening opportunities, you can fully embrace the benefits of living in a tiny house. These activities not only expand your living area but also allow you to connect with nature and enjoy a more sustainable lifestyle.
So step outside and start making the most of your outdoor space, and in the next section, we'll explore how to adopt sustainable and eco-friendly practices.
Adopt Sustainable and Eco-Friendly Practices
Make the most of your outdoor space by incorporating sustainable and eco-friendly practices that won't only benefit the environment but also enhance your tiny house living experience. Here are three ways to achieve this:
Implement renewable energy sources: Take advantage of solar panels or wind turbines to generate electricity for your tiny house. This doesn't only reduce your carbon footprint but also allows you to live off-grid and save on energy costs.
Install a rainwater harvesting system to collect and reuse water for various purposes, such as watering plants or flushing toilets. This way, you can reduce water consumption and make the most of available resources.
Reduce water consumption: Install low-flow faucets, showerheads, and toilets to minimize water usage in your tiny house. Consider using a composting toilet, which requires no water at all. Additionally, use native plants in your outdoor space that are adapted to the local climate and require less water and maintenance.
By incorporating these sustainable practices, you can minimize your environmental impact while maximizing your tiny house living experience. Join the tiny house community for support and inspiration as you embark on this exciting journey towards a more sustainable and fulfilling lifestyle.
Join the Tiny House Community for Support and Inspiration
By immersing yourself in the tiny house community, you'll find a network of like-minded individuals who can provide valuable support and inspiration throughout your journey towards sustainable and fulfilling living.
Joining online forums dedicated to tiny house living is a fantastic way to connect with others who are also passionate about this lifestyle. These forums allow you to ask questions, seek advice, and share your own experiences with people who truly understand the unique challenges and joys of living in a tiny house.
Not only can you gain valuable knowledge and insights from others, but you can also build meaningful relationships and even find potential collaborators for your tiny house projects.
Another great way to connect with the tiny house community is by attending tiny house festivals. These events bring together tiny house enthusiasts from all over, offering a chance to tour different types of tiny houses, attend informative workshops, and interact with experts in the field. It's a wonderful opportunity to see firsthand what others have accomplished and to be inspired by their creativity and ingenuity.
By immersing yourself in the tiny house community, you'll be able to tap into a wealth of knowledge and support that will help you on your journey towards a simpler and more sustainable lifestyle. With the help and inspiration of this community, you can fully embrace the benefits of living in a tiny house and enjoy a more fulfilling and intentional way of life.
Enjoy the Benefits of a Simpler and More Sustainable Lifestyle
Immerse yourself in the tiny house community and experience the freedom of living a simpler and more sustainable lifestyle. When you choose to live in a tiny house, you're making a conscious decision to embrace sustainable living and adopt a minimalist lifestyle. This choice not only benefits the environment but also has numerous personal advantages.
Living in a tiny house allows you to significantly reduce your carbon footprint. With limited space, you're encouraged to own fewer possessions and consume less. This promotes a more sustainable way of life, as you become more mindful of your consumption habits and the impact they have on the planet. Additionally, tiny houses are often built using eco-friendly materials and energy-efficient designs, further reducing their environmental impact.
A minimalist lifestyle goes hand in hand with living in a tiny house. By downsizing, you're forced to prioritize the things that truly matter to you. You'll find that you have more time, energy, and resources to focus on experiences rather than material possessions. This shift in mindset allows you to live a more fulfilling and meaningful life.
In a tiny house, you'll also enjoy the benefits of reduced maintenance and lower expenses. With fewer rooms and less space to clean and maintain, you can spend more time doing the things you love. Additionally, the lower utility bills and mortgage payments associated with tiny house living free up your finances, allowing you to pursue your passions and live life on your own terms.
Overall, embracing sustainable living and a minimalist lifestyle in a tiny house opens up a world of possibilities. It encourages you to live more intentionally, appreciate the simple pleasures, and forge meaningful connections with both nature and the community around you. So join the tiny house movement and experience the joys of a simpler and more sustainable way of life.
Frequently Asked Questions
What are the legal requirements for living in a tiny house?
To legally live in a tiny house, you need to obtain the necessary legal permits and meet specific insurance requirements. For example, did you know that some cities require a minimum square footage for a dwelling?
How do I handle utilities in a tiny house?
When it comes to utilities management in a tiny house, sustainable living is key. I handle utilities by using solar panels for electricity, collecting rainwater for plumbing, and composting for waste management.
Are there any zoning restrictions I need to be aware of when parking my tiny house?
Zoning regulations and parking restrictions are important considerations when parking a tiny house. It is crucial to research and comply with local laws to avoid fines or legal issues. Always check with the local authorities for specific guidelines.
How do I secure financing for a tiny house?
To secure financing for a tiny house, I researched various options. Some pros and cons include personal loans, RV loans, and crowdfunding. Personal loans offer flexibility, while RV loans may have lower interest rates. Crowdfunding allows community support but can be unpredictable.
Can I customize and personalize my tiny house to fit my specific needs and preferences?
Yes, you can customize and personalize your tiny house to fit your specific needs and preferences. Customization options include choosing the layout, materials, colors, and furniture. Design considerations involve maximizing storage space and optimizing functionality for a comfortable living experience.
Conclusion
Living in a tiny house has truly transformed my life. The concept of minimalism and decluttering has allowed me to focus on what truly matters, creating a sense of peace and tranquility.
With clever storage solutions, I've maximized every inch of space, making my tiny house feel surprisingly spacious.
By embracing sustainability, I'm not only reducing my carbon footprint but also saving money.
Joining the tight-knit tiny house community has provided me with endless support and inspiration.
Overall, living in a tiny house has been a game-changer, bringing simplicity, sustainability, and joy into my life.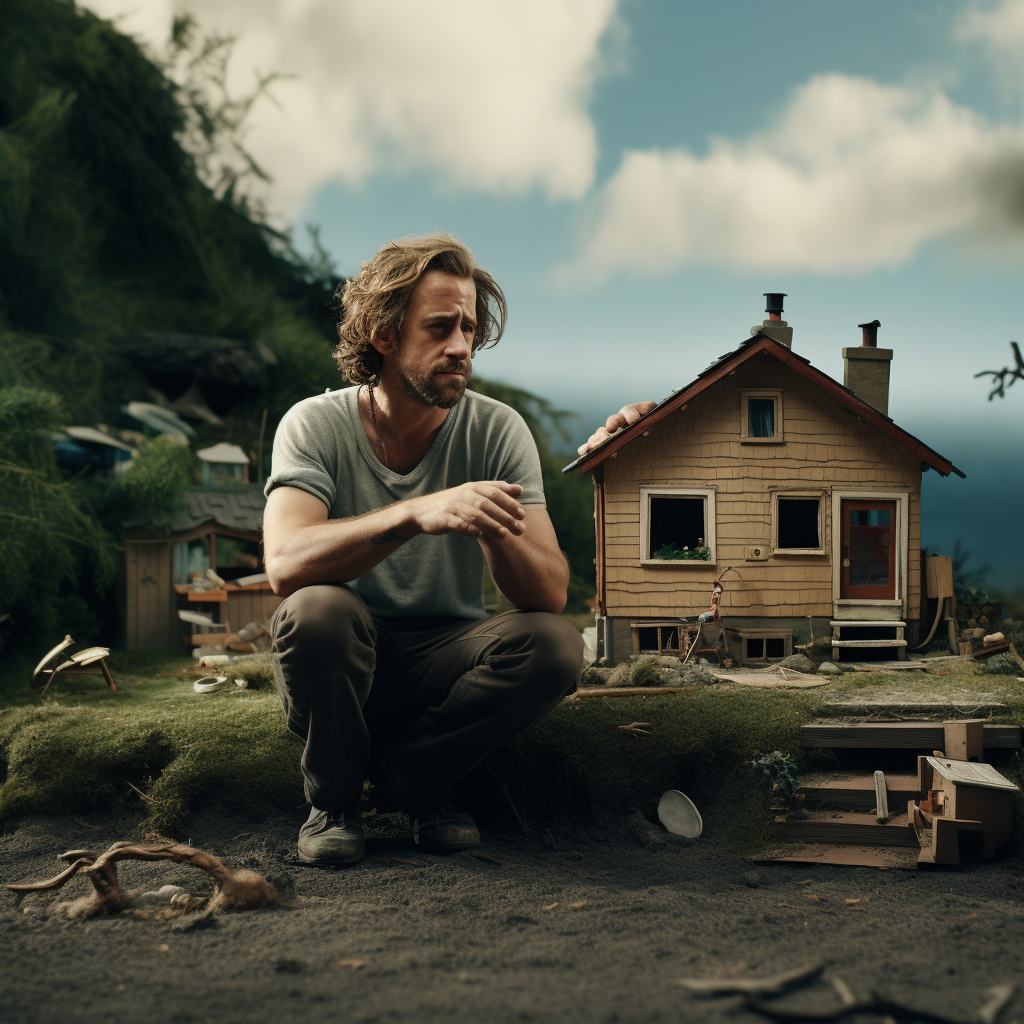 I'm Theodore, and I love tiny houses. In fact, I'm the author of Tiny House 43, a book about tiny houses that are also tree houses. I think they're magical places where imaginations can run wild and adventures are just waiting to happen.
While tree houses are often associated with childhood, they can be the perfect adult retreat. They offer a cozy space to relax and unwind, surrounded by nature. And since they're typically built on stilts or raised platforms, they offer stunning views that traditional homes simply can't match.
If you're looking for a unique and romantic getaway, a tree house tiny house might just be the perfect option.