Prefab tiny house kits can run as low as $4000 and as high as $180,000. We will cover the differences between a Kit and land and discuss the various options for Siding and Permits. There is no single right way to build a tiny house. You must decide your goals and how much money you will spend. We'll also discuss the different types of land, which one would be the most beneficial for your situation, and which materials will be the most affordable.
Prefab Tiny Houses Cost from $4,000 to $180,000
There are several options when it comes to building a tiny house. While you could always opt to build one yourself, using prefab kits can save you a lot of time and money. Depending on your needs, you can choose between basic and full-featured kits. Most basic kits range from $4,000 to $10,000. However, there are some extra costs to consider. Some models include plumbing and electrical wiring, while others are simply shelters. The higher price ranges are all-inclusive models that are more expensive. Budget-friendly kits are available as well but often do not include necessities.
Whether you build your prefab tiny house or hire a contractor, you need to consider the additional cost of the project. A professional contractor will likely add five to 20 percent to your project. You may also need a secondary vehicle. Some models are portable, but you will need extra elements for mobility. These extras include taillights, electrical and sewage connections, and easy-to-connect electrical wires. These extras will increase the overall price of your tiny home, but they are often worth the money.
When purchasing a tiny prefabricated house, you should consider maintenance costs. Even though the maintenance cost is much lower, you will have to do some repairs and renovations occasionally. These costs will vary based on the quality of the original materials and workmanship. You should also consider insurance. Insuring your tiny house is essential. You will pay about $100 per month for this.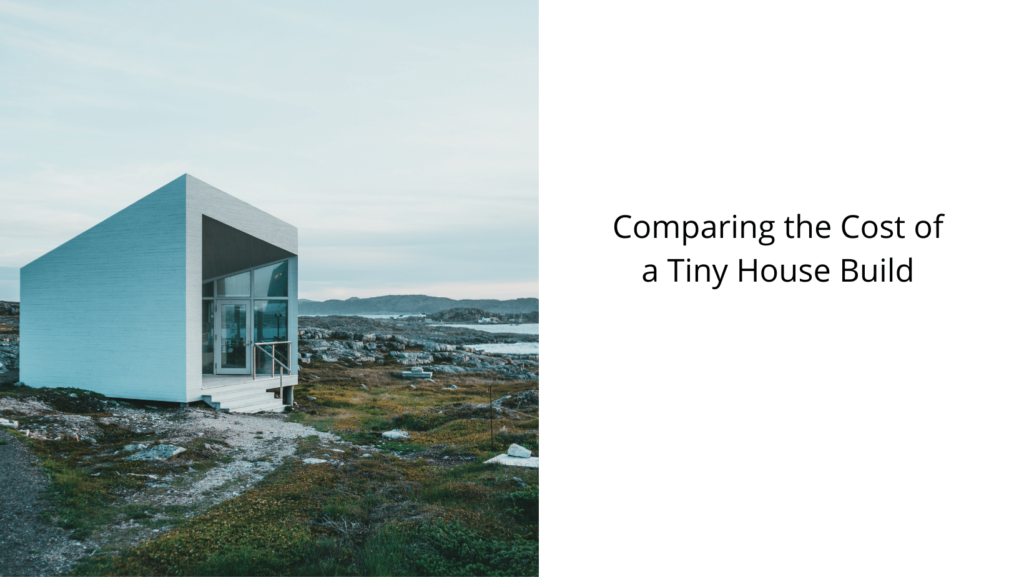 Kits vs. Land
When comparing the cost of a tiny house build, a few factors are important to consider. Kits are the most affordable option, but tiny custom houses can be expensive. If you are interested in building a tiny home, you'll need to finance the project. But before you can secure financing for a tiny house, you'll need to purchase land for building. Land prices can easily top $150,000. Getting a land loan is more complicated and may require a large down payment or a high credit score.
Tiny house kits usually cost less than $10,000 for materials. Kits come with blueprints and instructions. They may come in different shapes and sizes and are made of all materials. Kits may not include pre-made frames. Depending on the floor plan, these kits may cost more than buying a piece of land. Kits also may require some renovations or changes to the floor plan.
A tiny house can be built on a trailer or concrete slab. The latter option is more permanent. But it will cost more money to construct. A tiny house built on the land is generally more expensive than building one on wheels. Building a tiny home on land can range from $3,000 to $150,000. But remember that land may be more expensive, and the cost of building one on a foundation will depend on the size of the plot.
Regardless of the method used, the cost of building a tiny home varies greatly depending on the materials used. A prefabricated tiny home shell can cost between $15,000 and $40,000, depending on the materials used and the level of craftsmanship. A prefabricated tiny home shell can be a nice project for the homeowner and may not require all of the features that a custom tiny home has.
Siding Options
When choosing to side for your tiny house, you have a few options. Cedar is a beautiful, eco-friendly wood that is lightweight, easy to work with, and a great thermal insulator. Cedar is also inexpensive and readily available. Western Red Cedar is a popular choice, as it is naturally resistant to decay, durable, and relatively low in density. Pine and Doug Fir are also lovely, lighter wood options.
Vinyl is a relatively cheap option for tiny house siding but has some disadvantages. If improperly installed, vinyl is prone to damage and is susceptible to moisture. Stucco is another siding option, though it's not as common in tiny houses. It comes in many colors and textures and can complement most architectural styles. Moreover, it's relatively maintenance-free. However, it's important to remember that wood requires considerable care.
Cedar is not the most attractive option for tiny house siding, but it can add an exciting design feature. Cedar may not be a good choice for the entire tiny house, but it's worth considering for a particular home part. Cedar isn't the most environmentally friendly material for siding, but it can be an interesting addition if you're looking for a distinctive style. Siding for tiny houses should also reflect the owner's style.
Cedar or pine wood siding is a popular choice. These materials are durable and affordable. However, be careful: cedar and pine are not fire-safe. Cedar and pine wood siding is easy to work with and can be easily fashioned into distinct looks. They're also lightweight but strong enough to transport. There are a variety of other options available for tiny house owners. The key is to choose one that works for your needs.
Permits
When building a tiny house, obtaining all the necessary permits is essential. Different cities and counties have various zoning regulations and land use standards, so it's essential to understand these rules before you start building. If your property is zoned for residential use, you will also need to determine what kind of development is allowed. Some areas have special carriage house rules, so check these out before starting construction.
The total cost for building a tiny house can range from approximately $14,050 to $54,800, depending on the type of structure and location. Permit fees are often included in a general contractor's quote. You may also need to pay for homeowner's insurance or property taxes. While a tiny home can connect to the local utilities, it may need its septic system and a composting toilet to stay sanitary. You'll also need renewable energy sources if you plan to live off the grid.
Zoning regulations also vary by state. In general, counties and cities have minimum size requirements for tiny houses. In some states, you may be able to request a variance if the zoning regulations do not allow you to build a larger home. To find out if your home will require permits, contact the local government to find out if it requires. Once you've established a legal business entity, you'll need to register for federal and state taxes. You'll also need to register your tiny house as a business.
While you might think that the permits for a tiny house aren't necessary, you must ensure that the project complies with the building codes in your area. The building code ensures that a building meets specific minimum safety standards. The building code is different for residential and commercial buildings. Some states plan to add a special section for tiny homes, called a "Tiny House Appendix".
Utility Hook-Ups
The utility company often provides the utilities for a tiny house. But there are also options for off-grid living or hybrid systems that use both on and off-grid services. Utility hookups are a crucial part of the tiny house build cost, but they should also be part of your budget. Before you make a final decision, consider the utility hook-ups available at the location you are considering.
Whether you have electricity or a gas connection will affect the overall cost of your tiny house build. You should also consider the cost of land and utilities, which can be expensive. Generally, you'll need to pay between $100 and $200 for each service. If you need water, you can bring in water from a nearby source, or you can collect rainwater to power your tiny house. Depending on your location and the utilities you'll need, utility hook-ups can add up quickly.
Working with licensed plumbing, electrician, and structural engineer is crucial if you're building your land. This is essential for ensuring that your tiny home is safe. Underground utilities can be much more expensive than above-ground installations. If your land has already been connected to utilities, you can cut your cost by using existing lines, but if you need to install new lines, you'll have to pay for them yourself. It may also be a good idea to consult with an architectural engineer to determine the best plan for installation.
Hi, I'm Emma. I'm the Editor in Chief of Tiny House 43, a blog all about tiny houses. While tree houses are often associated with childhood, they can be the perfect adult retreat. They offer a cozy space to relax and unwind, surrounded by nature. And since they're typically built on stilts or raised platforms, they offer stunning views that traditional homes simply can't match. If you're looking for a unique and romantic getaway, a tree house tiny house might just be the perfect option.